Quality and Certifications
Quality is at the heart of all we do at Whippany Actuation Systems to ensure you receive the highest performing, most reliable products on the market. We are to ISO 9001/AS9100 and ISO 9001/AS9110 standards and hold both an FAA 145 Air Agency Certificate and an EASA 145 US Approval Certificate.
Quality and Excellence
Our Quality System ensures we design, manufacture, and deliver high quality, value-oriented products and services on time, every time, to your requirements. We are dedicated to creating a culture that is focused on quality, with full dedication and commitment toward continuous improvement in all facets of our products, processes, and employee development.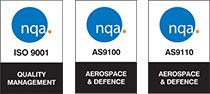 Click to view our certifications: